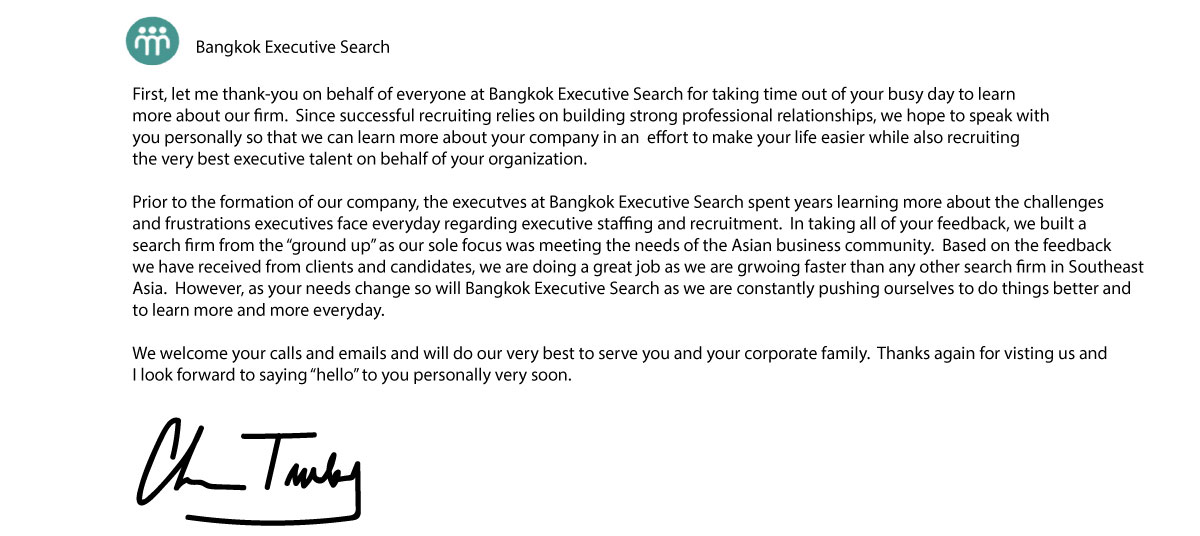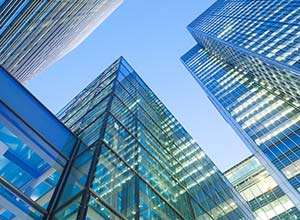 The Premier Executive
Recruiting Team in Asia
Bangkok Executive Search is comprised of a team of former corporate executives that know the executive search industry better than anyone. One of the characteristics that makes us so knowledgeable is that everyone in the organization has also spent many years hiring executive search firms when they were in the corporate sector. During this time, our management team interviewed and worked with many recruiting agencies and we know the concerns and frustrations people have when working with "headhunters". Those years of experience have shaped who we are and benefits our clients as we understand all sides of the recruiting equation.
In building the premier executive search firm in Asia, our first goal was to deliver the absolute best talent to our clients. However, as our experience in hiring search firms taught us, we also needed to deliver exceptional value so that our clients were able to clearly see the value in our services.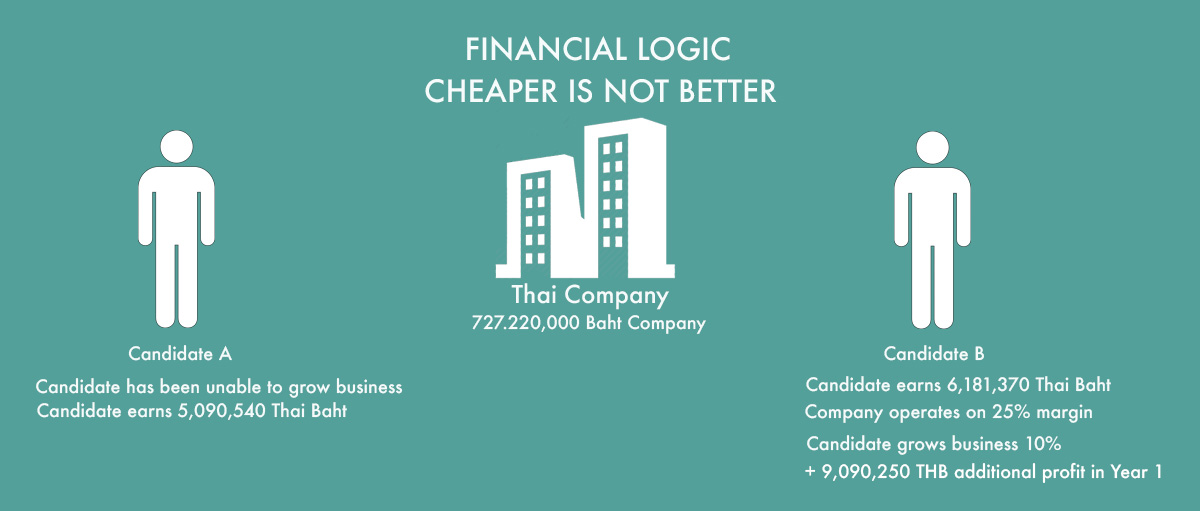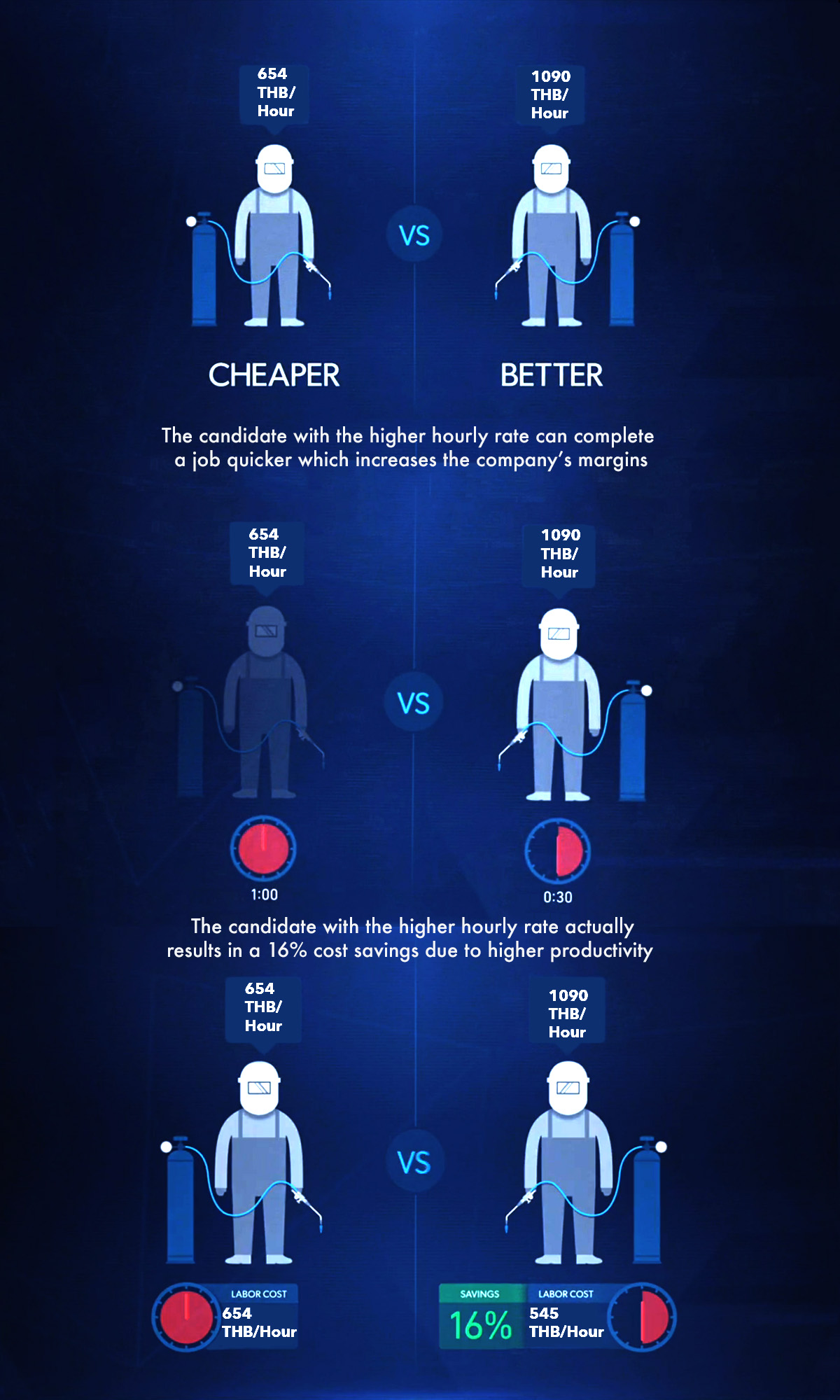 Thailand's Most Tech Savvy Executive Search Firm
Bangkok Executive Search knows technology and we leverage it better than any other search firm in Asia.  For our clients it means exceptional candidates, exceptional results and exceptional value.  As recruiters, we understand that by harnessing our extensive knowledge of technology, we can be more efficient which drives costs down for both our clients and our firm.  You will also get faster results and better talent because we can make contact with people other search agencies can't as they are still relying on outdated methods that simply no longer have value in the twenty-first century.
In this fast-paced business environment we all live in, a successful firm must constantly be networking and on average, our recruiters are connecting with a minimum of one hundred top professionals a day.  This means our professional network is growing exponentially and if we don't personally know someone, we absolutely have a professional colleague that can make a personal introduction for us.  Therefore, our phone calls and emails always get a response as a highly respected executive is usually making the introduction which immediately provides us credibility with potential candidates.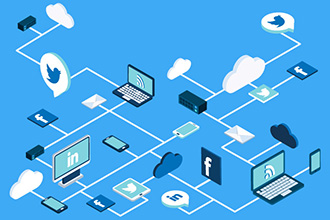 When we are not on the phone or personally meeting with candidates, our vast social media network is constantly working around the clock to extend our reach throughout Southeast Asia.  That means regardless of what we are doing or where we are, our various networks are sending out tweets, making connections on Linkedin or adding another "friend" on Facebook.  The reality is that networking today is much more sophisticated than it was ten years ago and you need a firm that not only knows recruiting but knows technology as the world's most successful companies are all extremely tech driven.  Consider the retail industry for instance as brick and mortar locations are starting to take a "back seat" to online shopping and the same is true for recruiting.
A typical brick and mortar executive search firm in Asia may have on average up to ten employees with five of those being administrative staff members.  At Bangkok Executive Search, our commitment to excellence along with our leveraging of technology allows us to build a network of executive consultants throughout Asia who are literally located in the major cities in which we are actively recruiting in for a particular search. We do not adhere to traditional hiring methods where we only want talented people who live within commuting distances of our offices.  Instead, we want the best people period and if we are able to get a former high level executive to join our consultancy network, we will find a way to make it work as we always make room for talent.  From a client standpoint, do you want to work with a search firm who is employing just the handful of recruiters within a few kilometers of their office or do you want partner with a search that takes advantage of the best people throughout Asia in finding you the best executive?  The truth is successful executive recruiting comes down to relationships and we have more than any other search firm in Thailand.
How The Most Efficient Methods Employed By
Bangkok Executive Search Benefits You
The fees charged by every professional is based on the amount of time required to complete the task.   This is why efficiency is so important when hiring an an outside search agency. If they rely on databases, job boards and file cabinets you can expect the search to take much longer than you had anticipated.  Even worse is the caliber of candidates that you will receive in working with recruiters who have not evolved with the global marketplace.  In truth, executive search is most successful in the hands of those who grew up with technology and it is an industry driven by a younger workforce as Instagram, Twitter, Facebook, Linkedin , etc are social media outlets that Bangkok Executive Search knows extremely well.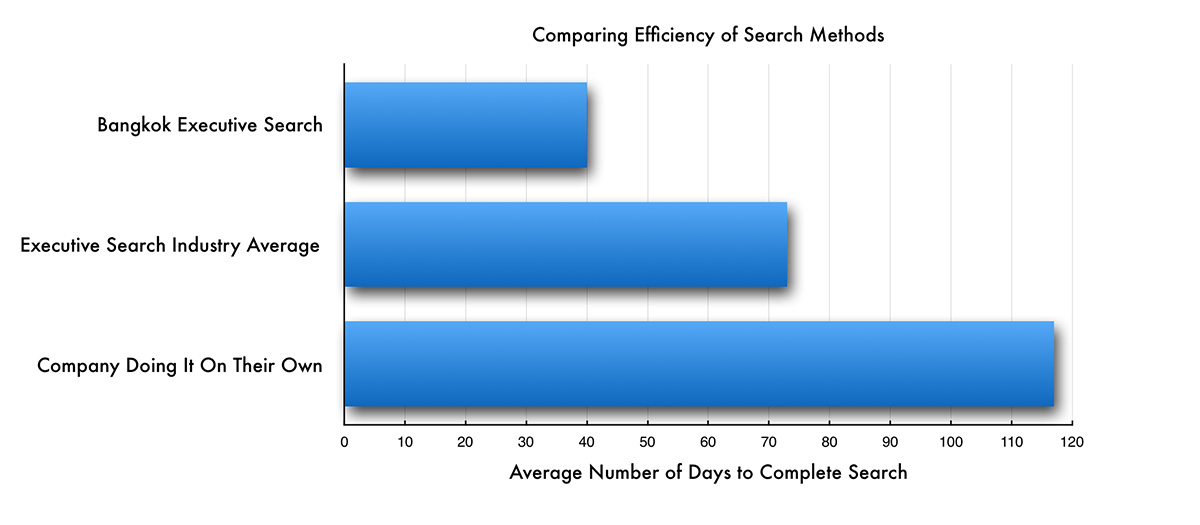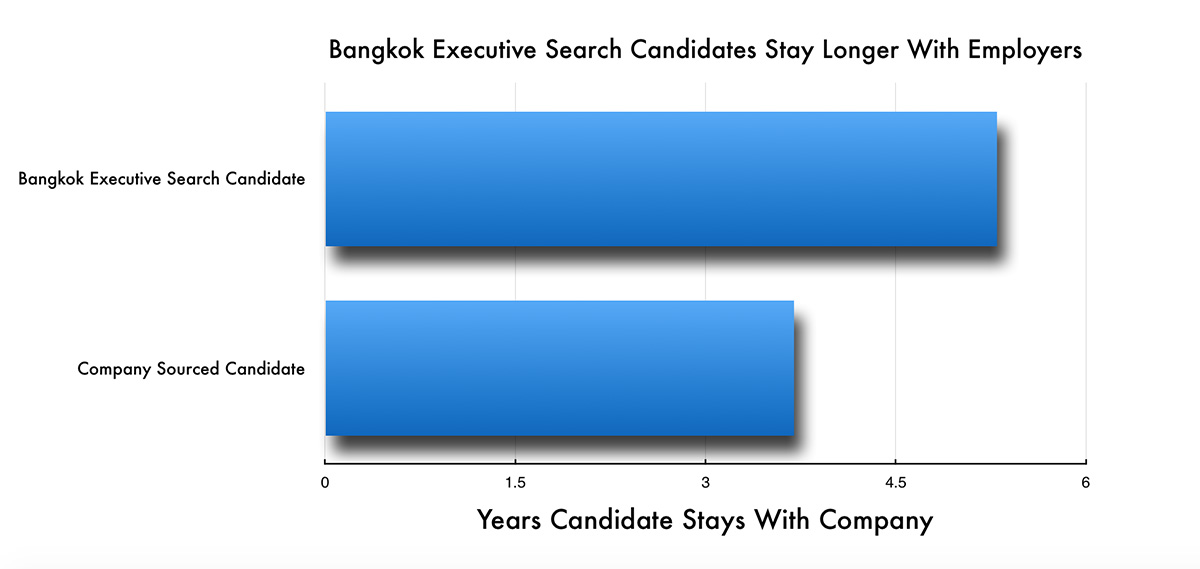 Our candidates exhibit far longer tenure with Asian companies than the individuals organizations find through traditional methods such as job board posting sites.  As an experienced search firm, we study the trends and tendencies of the executives we place with our clients.  One of the things we evaluate is how long on average they have been with all their previous employers.  Individuals who have spent less than two years in a company more than once are immediately eliminated from consideration as this is a reflection on their thought process and decision making skills. At Bangkok Executive Search, it is our professional opinion that if someone has failed to make good choices with their most important asset (their career), than there is far too high a probability they will exercise bad judgement in managing a department or organization.
THAI EMPLOYMENT ISSUES
OUR PARTNERS AND ASSOCIATES